Flowstone Industrial Flooring Specialists provide solutions for concrete resurfacing and repairs.
Our team as the ability to provide flowable, pumped cementitious screed are ideal for floor refurbishment projects. They're shrinkage compensated and provide high early and ultimate strengths. Specialist coatings for structures with low cover to reinforcement or those in need of protection from aggressive chemical environments: 3mm application provides a 100mm layer of concrete - equivalent strength!
Specialist anti carbonation coatings providing an elastomeric, waterproof and anti-carbonation protection against the ingress of water, an effective barrier against carbon dioxide gas which can permeate concrete, in turn causing corrosion of steel and deterioration of concrete.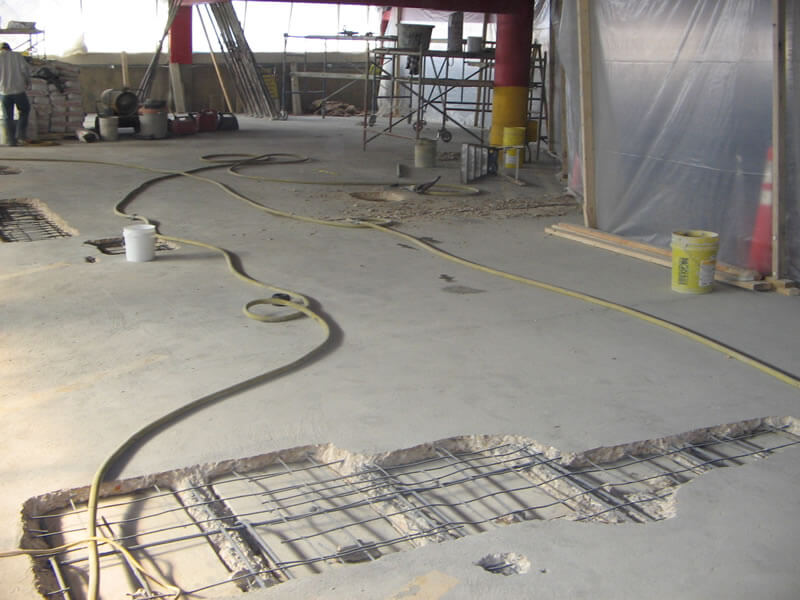 Our concrete repair services cover the United Kingdom
These repair services include concrete resurfacing to concrete patching and concrete sealing. Do you have concrete cracks? Concrete spalling? Or concrete erosion? Contact us for a free quote today!
Our concrete surface preparation includes the removal of loose concrete by hand or with hydraulic concrete saws, concrete grinding or concrete diamond wire brushing to remove concrete patches of concrete spalling concrete from the concrete surface. All concrete surfaces need preparation before resurfacing and this includes concrete patch repairs for new concrete and sealing for older concrete floors.
We're will recommend the best solution for your surface, from resealing to patch repairs. Please contact us to discuss your needs.
If you want to ask a question or get a floor painting quote, please call us on 0800 009 6910 or fill in the form below.
Patch repairs are made by concrete injection or concrete repair mortars where minor areas of concrete have deteriorated and lost their integrity within the structure. They enable fine detailing to original textures and profiles reinstating strength gain Additionally, concrete sealers are applied to surfaces to help the floor redeem its strength.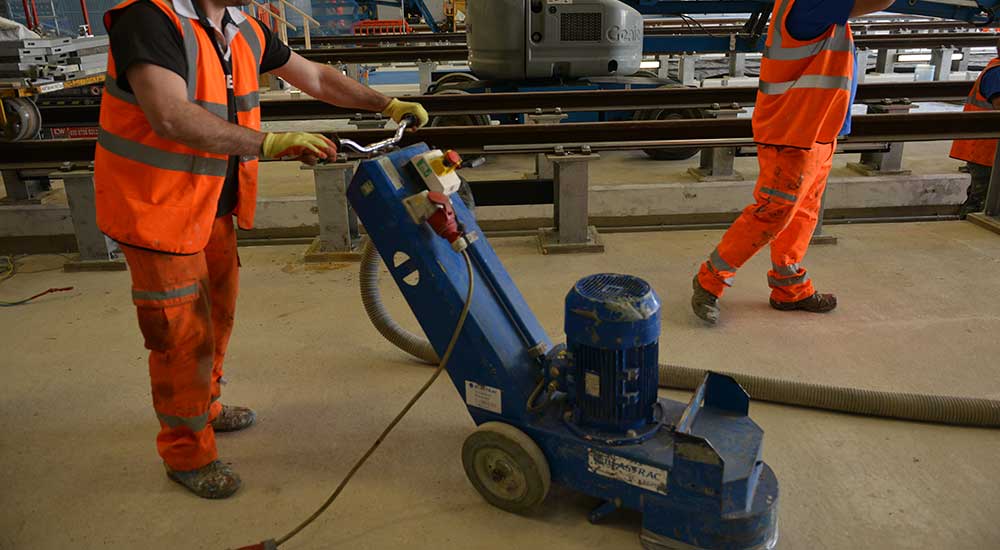 Floor preparation is essential to floor the competition
Our floor preparation service doesn't just help you make your floor look good; it will also help you keep your floor in great condition throughout the year. Regular floor maintenance can extend the life of your floor and save money on repairs that otherwise be necessary. We can prep your floor for all material, whether it's resin-screed, vinyl flooring, laminate flooring, or a different type of floor covering altogether.