Paint is typically used for concrete, block paving and indoor surfaces as well as all other surfaces outdoors. While it is available in a wide range of colours, great care must be taken when choosing products to be used in food processing factories or warehouses as organic solvents may taint produce.
Traffic paints adhere well to concrete and block paving, but VOC's, odour and slow drying should be taken into account.
The traditional chlorinated rubber formulas are gradually being replaced by water-based equivalents and other alternatives such as epoxy paint, applied by airless or air assisted equipment or by roller and brush. Water-based acrylic paint is ideal for environmentally sensitive areas, while hard wearing methylemethacrylate high performance paint is often used for wet night marking.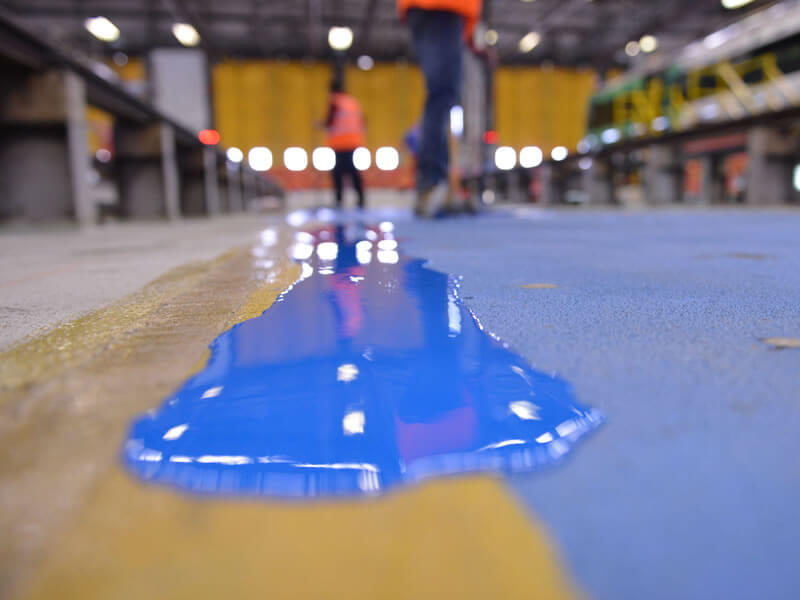 Our floor painting expertise can advise you on right paint for your environment regardless of whether you are a factory that produces food or a laboratory that used sensitive chemicals. For an informal chat regarding your requirements contact us on the numbers above or send us a quick message from our contact page.
We use a range of flooring paints and do not use just the one product.
If you want to ask a question or get a floor painting quote, please call us on 0800 009 6910 or fill in the form below.