A chemical laboratory is exposed to highly corrosive chemicals on a daily basis, so highly resistant and durable flooring is a necessity. The correct industrial flooring can provide you with protection from concentrated chemical attacks and will allow you to clean any spillages that might occur and ensure that your flooring isn't damaged.
Our vinyl ester resin lining provides excellent binding to your current flooring, which is resistant to chemical spills such as acid, alkaline and oxidising agents. With a heat distortion temperature of 100°C, it maintains its integrity even with the most rigorous of cleaning regimes. You can be sure with vinyl ester resin that your industrial flooring can withstand the daily exposure to chemical processing.
Vinyl ester resin can be applied in a variety of thicknesses, textures and finishes. Depending upon your specific requirements – we're able to provide the solution that's right for your business. Compared to standard epoxy resin, vinyl ester has a far higher organic acid, inorganic and solvent resistance rating.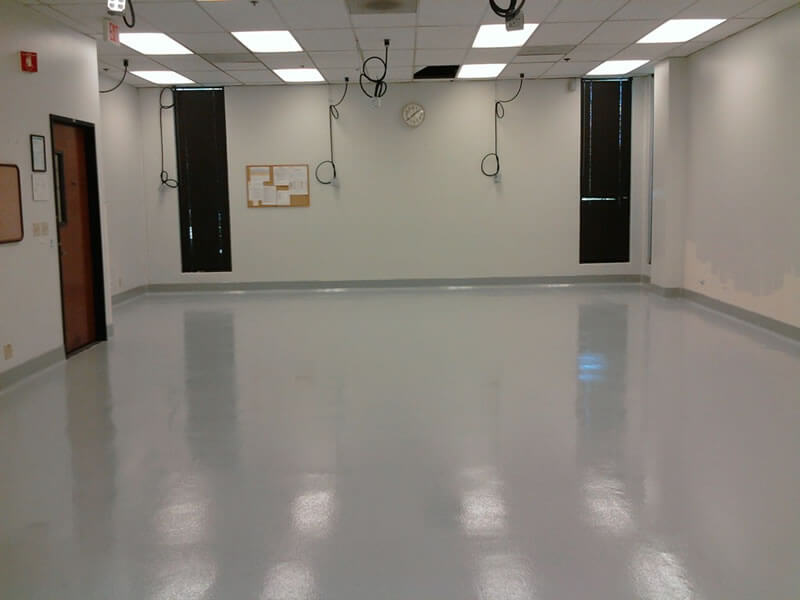 Our floors are available in a range of finishes including heavy duty epoxy and polyurethane, and anti-static systems resulting in a floor that has additional advantages expected from an industrial floor such as strength and extreme durability
If you want to ask a question or get a floor painting quote, please call us on 0800 009 6910 or fill in the form below.
Our Food Safe Flooring Systems can be altered to adapt to your laboratory areas, and will provide bacteria-free and seamless anti-microbial floor coverings which are both anti-slip, impact resistant and can withstand steam cleaning. Your laboratory floor can be adapted to match your exact requirements, whether you need an anti-slip, anti-static, chemical resistant, durable or flexible floor, we can create a floor ideal for you. If you require, we can also provide floor line paintings to help you create safety areas, zones and walkways within your environment to assist with your safety precautions.
Safety is of the highest concern in any environment dealing with chemicals, and your lab is no different. Your industrial floor can go a long way to helping you to avoid accidents in the workplace. Anti-slip, anti-static, durable and high resistance flooring helps to ensure that spills, accidents and cleaning activities don't damage your floor, leaving any exposed surfaces that could harbour germs or cause a trip. Our anti-slip industrial floors also include a high yellowing resistance, giving you the peace of mind that your floor remains in the best condition for as long as possible.