Flowstone Industrial Flooring Ltd were contracted to carry out specialist flooring works for a hand sanitiser manufacturing facility located in county Durham. We were asked to create a chemical resistant bund around the tanks of the various products used to make sanitiser.
What is a chemical bund?
A bund is a structure that provides safety from environmental hazards such as oil spills or chemical release. This prevents the risk for contamination of land, water sources and air quality in surrounding areas which are affected by accidents associated with these substances stored at facilities near populated regions like neighbourhoods where people live usually have homes close enough so they can be exposed too!
How do you refurbish chemical bund?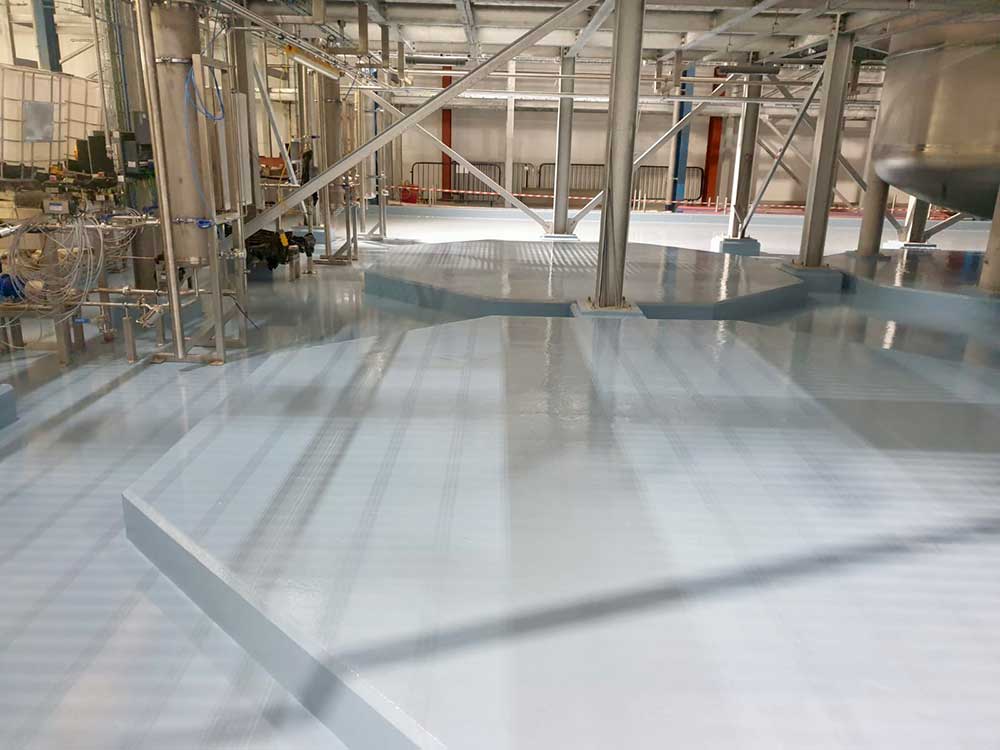 With the existing bund area being refurbished, the requirement for our specialist epoxy resin contractors was to supply a resilient coating which could withstand a range of chemicals, namely alcohol, ethanol, and isopropanol, in the unlikely event of spillage or leak.
The works area consists of 2,400m² flooring total, to be phased out throughout the various stages of the project. Phase 1 involved approximately 1,000m2 with 250m of joints.
Specifying a resilient epoxy resin coating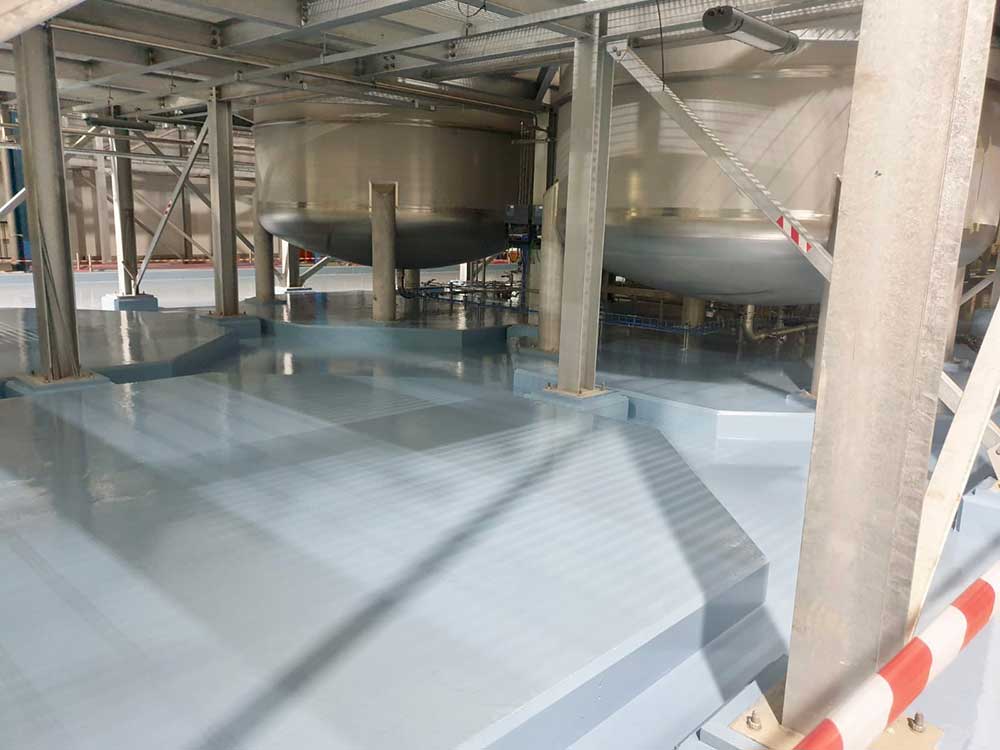 Flowstone specified Virtus Resins Strongcoat, which is an exceptionally durable two part epoxy in smooth gloss finish. The specification was carried out by a member of the in-house technical team with considerable experience. The first part consists of resin, which is mixed on site with both hardener and additive to produce the final chemical resistant coating.
The second part involves tooling up the product with medium pile resin rollers to leave an aesthetically attractive finish which also provides substantial durability to the coating.
Virtus Resins Strongcoat offers many benefits over other products on the market, here are just a few;
It is rust proof and weather proof, so it won't crack due to changes in temperature or expand/contract with heat. Strongcoat is also pitting resistant which means it remains even, smooth and prevents corrosion due to exposure of the substrate underneath.
Strongcoat is very easy to maintain and offers excellent chemical resistance including alcohol, which was imperative for this project.
The Client requested custom RAL 5024 (Pastel Blue) colour for the final finish.
Preparing the chemical bund for an epoxy resin coat
A number of bolt repairs and general making good were carried out to the existing bund area.
The client had previously requested the floor surface be neatened up prior to application of the epoxy resin by using diamond grinding equipment to remove all rust and debris from the existing epoxy coating. This was then cleaned down with solvents.
The floor required a lot of intricate work including diamond grinding and painting around the bund plinths and fixed machinery.
It was essential that some of the areas remain operational throughout the flooring works in order to minimise the disruption to the production of hand sanitiser. Flowstone completed the works over a number of separate visits to ensure minimal disruption to the manufacturing processes.
The floor was also complete with matching joints which were raked out and re-filled with a suitable jointing compound.