Flowstone Industrial Flooring Limited was sub-contracted by a returning Client to carry out specialist resin flooring refurbishment works for an industrial unit used as warehouse space in Bognor Regis.
The works area comprised of refurbishing approximately 530m2 of the existing warehouse floor. Our specialist flooring contractors were also required to prepare the application surface by removing the old floor paint and repairing anchor bolts. Our contractors used our in-house floor preparation equipment to removing the old resin coating by shotblasting and grinding back to bare concrete, followed by the removal of all steel and concrete chippings.
A sample patch was prepared for approval before final coatings were applied.
Works also included structural repairs to update existing anchor bolt fixings and replace with new stainless steel fixings for reinforced support of the finished resin flooring.
Flowcrete Flowcoat SF41 Resin flooring
Refurbishing the floor required that we got a better understanding of how the the surface would be used and the type of traffic that would be using it. We understood that it would be quite bust with heavy materials and fork-lift truck activity.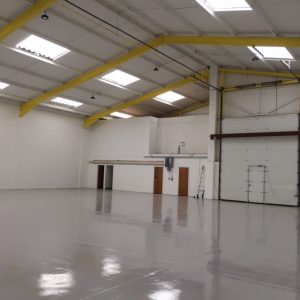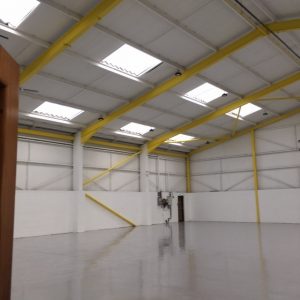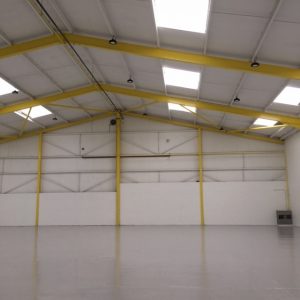 With this in mind, we opted for Flowcrete's Flowcoat SF41, which is the go-to product for warehouse floors. Flowcoat SF41 is a two part high build epoxy paint was ideally specified for this type of flooring.
Having worked with Flowcrete products for over 20 years, we have vast experience installing the Flowcoat SF41 epoxy coating as it offers an exceptionally hard wearing and durable finish which is easily maintained using a floor scrubber washer.
It is the most commonly specified resin for warehouse environments and industrial units where the client requires a cost-effective epoxy solution and floor requires resistance against sustained vehicle traffic such as pallet trucks and forklifts.
In fact it's a great solution for most types of surfaces as it's very low maintenance and very easy to clean. It can be applied as an aniti-slip solution for additional safety in a busy warehouse.
Flowccoat is also available in a range of colours but in this case the client opted for a clean and tidy light grey.