Flowstone Industrial Flooring Limited was recently appointed to install resin floor finish in a number of commercial garages for R H commercial Vehicles Ltd.
Since 1986 R H Commercial Vehicles Ltd have been the Renault dealer for the Nottinghamshire, Leicestershire, Derbyshire and Northamptonshire areas, making them THE place for Renault trucks and vans in the East Midlands. Since then the company has grown to become a leading 4×4 and commercial vehicle specialist as well as being official distributors for; Nissan, Isuzu, Mitsubishi, Volvo Trucks, MAN TGA, Iveco and UD.
Working closely with Flowstone Industrial Flooring Limited in order to provide their customers with a high quality finished floor, R H Commercial Vehicles Ltd were looking for a specialist company with the right products and expertise.
The new showrooms boast an expansive display area with various specification trucks and vans on display. A wide range of 4 wheel drive vehicles are also available to view inside the building or out on site in our extensive vehicle yard!
The three main sites where R H commercial Vehicles Ltd required resin works were located in: Cossington, Newark and Alfreton.
Applying the epoxy resin to the floor
The area comprised approximately 600m2 each site, totalling approximately 1,800m2 of old and brand new concrete which required mechanical preparation, priming for newly-laid substrates, and high build final finish with Black and Yellow Line Markings around vehicle pits.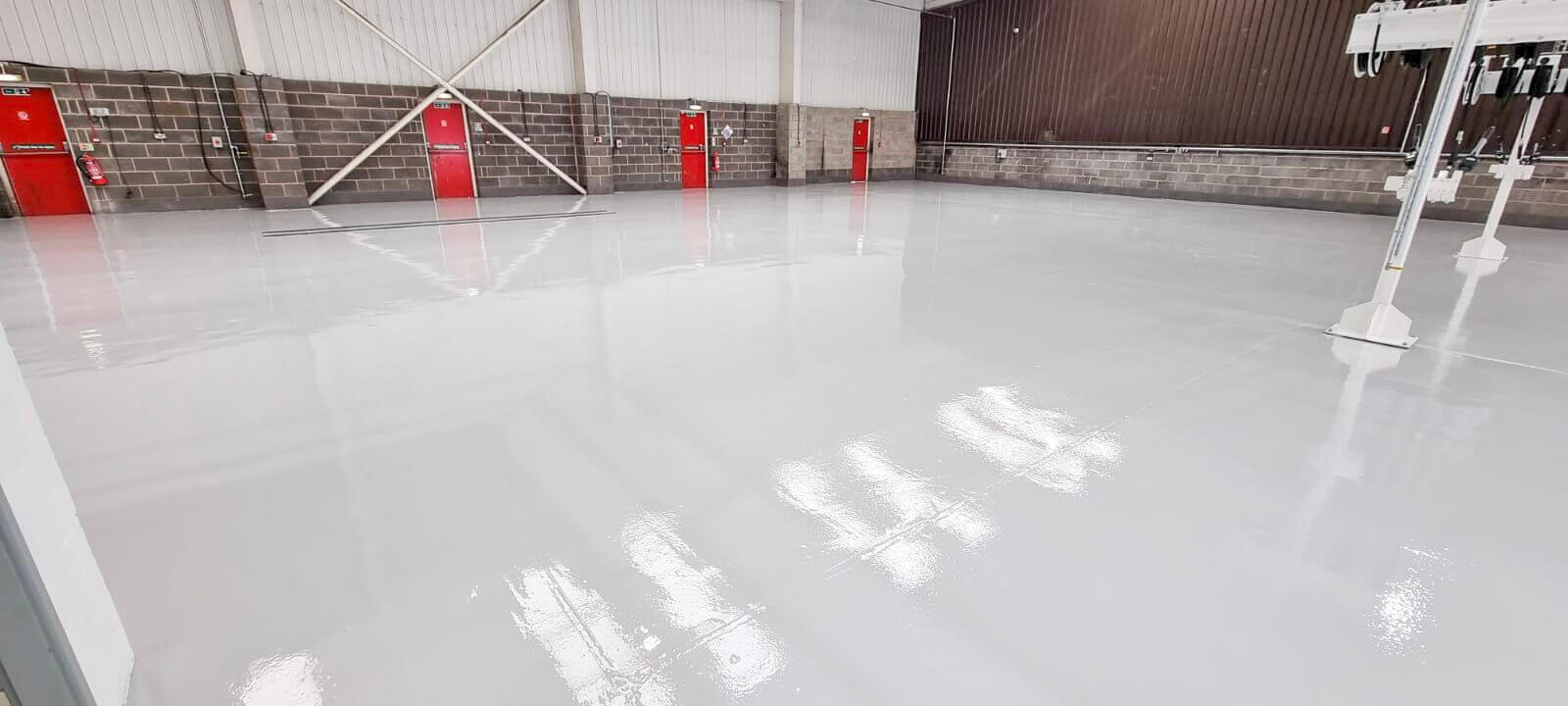 Employing the latest installation techniques Flowstone Industrial Flooring Limited were able to complete all three sites in just 12 working days.
Flowstones epoxy resin floor had a very high build compared to other floor coating systems that R H Commercial Vehicles Ltd have used before, therefore increasing durability and resistance to wear. Providing a superior finish over other alternatives in the market, flowstones resin floor was completed with a very even coating which makes for easy vehicular and pedestrian traffic.
Flowstone began the works by carrying out full mechanical floor preparation by means combined mechanical floor preparation using shot-blasting and diamond grinding, followed by the application of DPM primer to new concrete where residual moisture levels were still present. This was then followed by two coats of Strongcoat high build epoxy, throughout.
The flowstone used a system that has been designed to create a longer lasting finish that is both durable and cost effective, therefore providing excellent value for money to R H Commercial Vehicles Ltd as well as their customers.
The Client was delighted with the new floor finish, appointing Flowstone to complete more of the same works to their site in Peterborough.
If you have a similar resin flooring requirement for your project, please get in touch with our team for technical advice, specification and obligation free price estimate