Flowstone Industrial Flooring Limited was contracted to carry out epoxy floor coating works for Minesto Ltd brand new Assembly Hall in Holyhead, Anglesey.
Minesto is a marine energy technology developer, founded in 2007 as a spin-off from Swedish aerospace manufacturer Saab. Since then, Minesto has successfully developed its unique Deep Green technology: patented and awarded ocean energy power plant.
Epoxy Surface Specification
The work area comprised of approximately 1000m2 brand new flooring area. The Client specified Flowcrete's Flowcoat SF in Mid Grey for the main floor, Traffic Blue for the walkways, and Safety Yellow for the floor line-markings and to designated forklift bay.
Flowcoat SF41 is a high build epoxy resin system that protects against a range of acids, alkalis, solvents, alcohols and fuels. Hard-wearing against sustained vehicle traffic, Flowcoat SF41 can also be used as a line marker in demarcation areas, as well as for internal warehouse, factory and train depot installations.
Moisture meter readings also revealed a requirement for DPM primer. Hydraseal DPM primer was specified to help protect the moisture levels of the newly laid concrete penetrating the new epoxy coatings.
Preparing the Commercial Floor
The Client discovered the need for some levelling of the new concrete slab by the entrance door. Flowstone acted fast and installed 10mm ramp to approximately 25 m2 area. Virtus Resins Flowdur SC was specified for the purpose. Flowdur SC is a three-component heavy duty polyurethane floor screed for use on concrete and polymer modified cementitious screeds. It is ideal for industrial floors including; manufacturing and storage areas, engineering plants and re-profiling damaged or worn floors.
Cold weather and the lack of heating in the newly applied surface required the hire of electrical heaters, to help aid the curing process for the epoxy coating.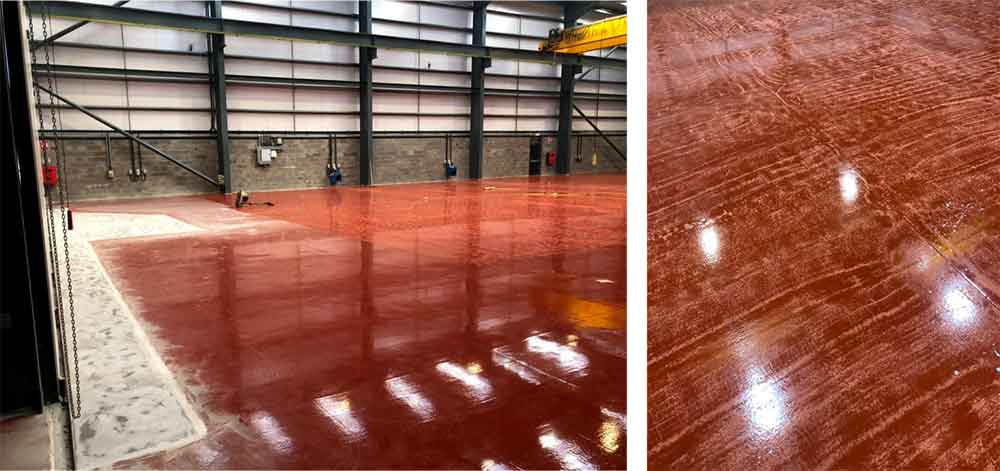 Sequence of Resin installation
The floor and surface area was thoroughly prepared by vacuum enclosed shot-blasting and angle grinding. This process allows our flooring contractors to remove the existing paint or coat and helps achieve a bond between the existing surface and the new epoxy coating application.
Flowstone then proceeded to apply 2 coats of Hydraseal DPM primer to the whole floor area.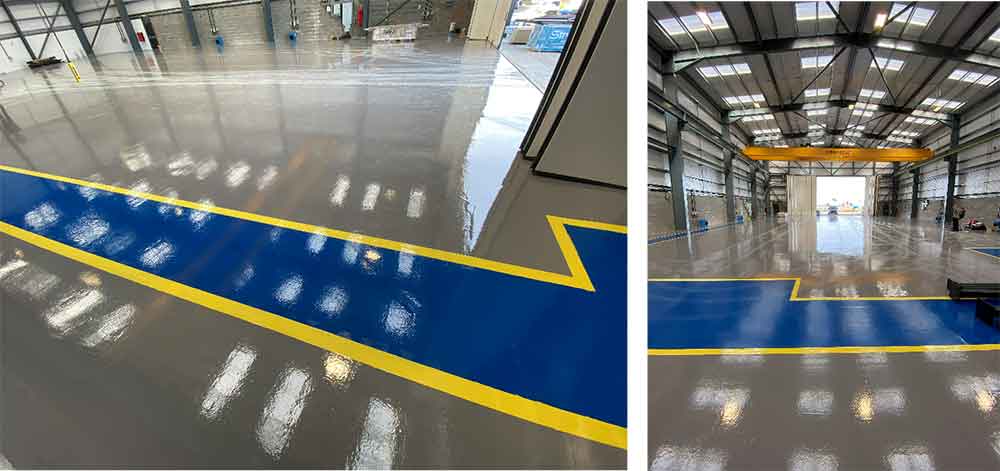 Line Markings for completed acid resistant floor coating
Designated walkways were taped out with masking tape. Flowcoat SF41 high build epoxy in Mid Grey was then applied to the whole floor area, followed by the installation of Traffic Blue Walkways with single yellow line markings on each side.