Flowstone Industrial Flooring Limited was re-appointed by one of our well-established clients, Samclo Limited, to carry out a refurbishment project and install a resin flooring solution to a commercial vehicle workshop in Blenheim Industrial Estate, Nottingham.
Samclo Limited utilises an industrial work space that requires a durable and hard-wearing flooring system. Heavy vehicles and machinery are transported throughout the space whilst corrosive and industrial strength chemicals are used as standard across the entire range of their services. As a result, Samclo Limited required a floor system that could withstand these pressures and offer the reliability, functionality and imperviousness necessary for high intensity industrial usage.
Job Overview
The works area comprised of 880sqm area total, inclusive of old and new floors. The floor was to be complete with black and yellow chevrons surrounding the vehicle pit lane.
Specification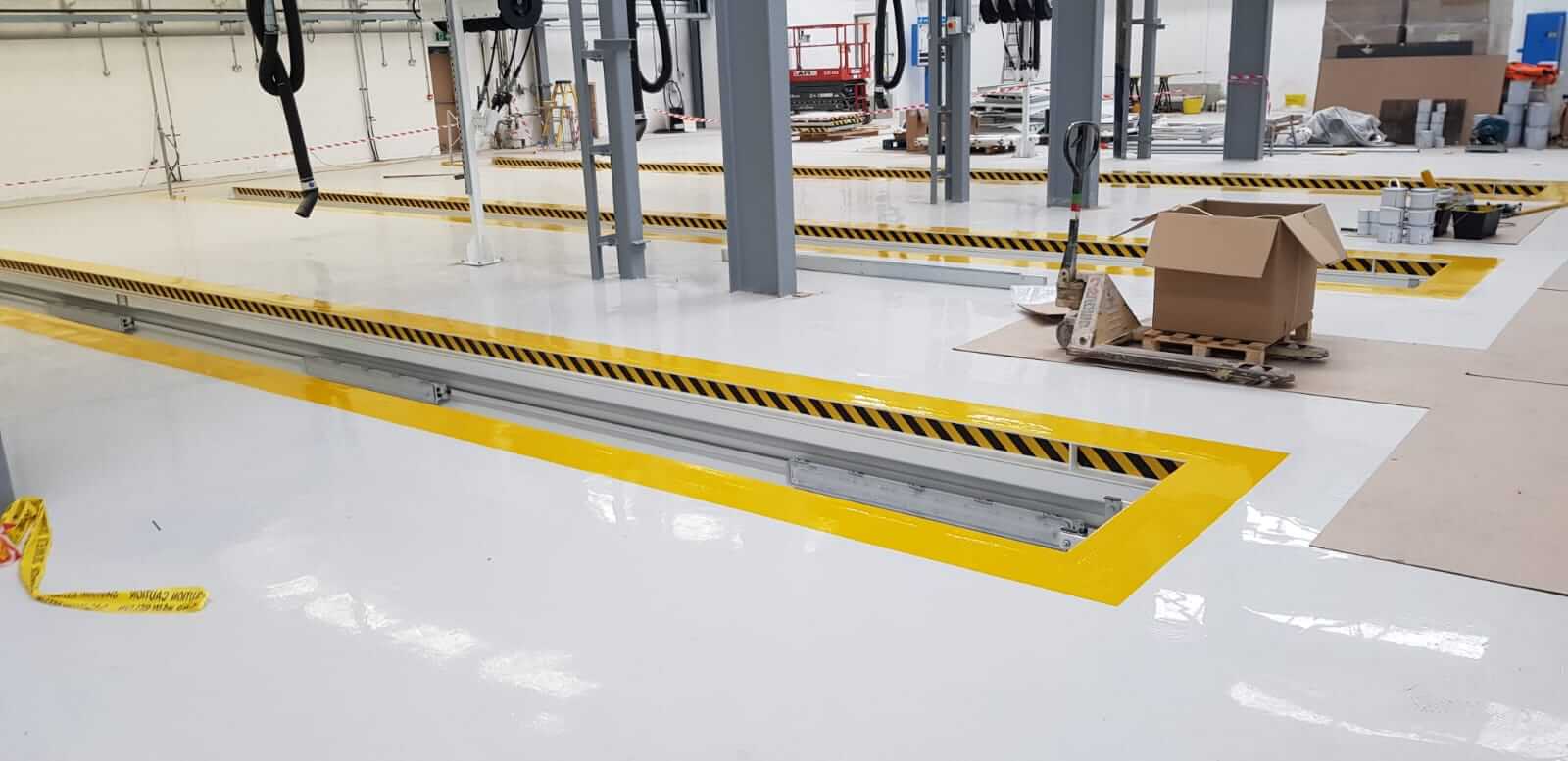 The Client required a hard-wearing flooring solution which could withstand frequent heavy duty vehicular traffic, as well as offer resistance to chemicals and engine oils most commonly encountered in commercial workshop environments. Flowstone specified Virtus Resins Strongcoat, which is a two-pack, resin rich, high build epoxy paint in smooth gloss finish.
Challenges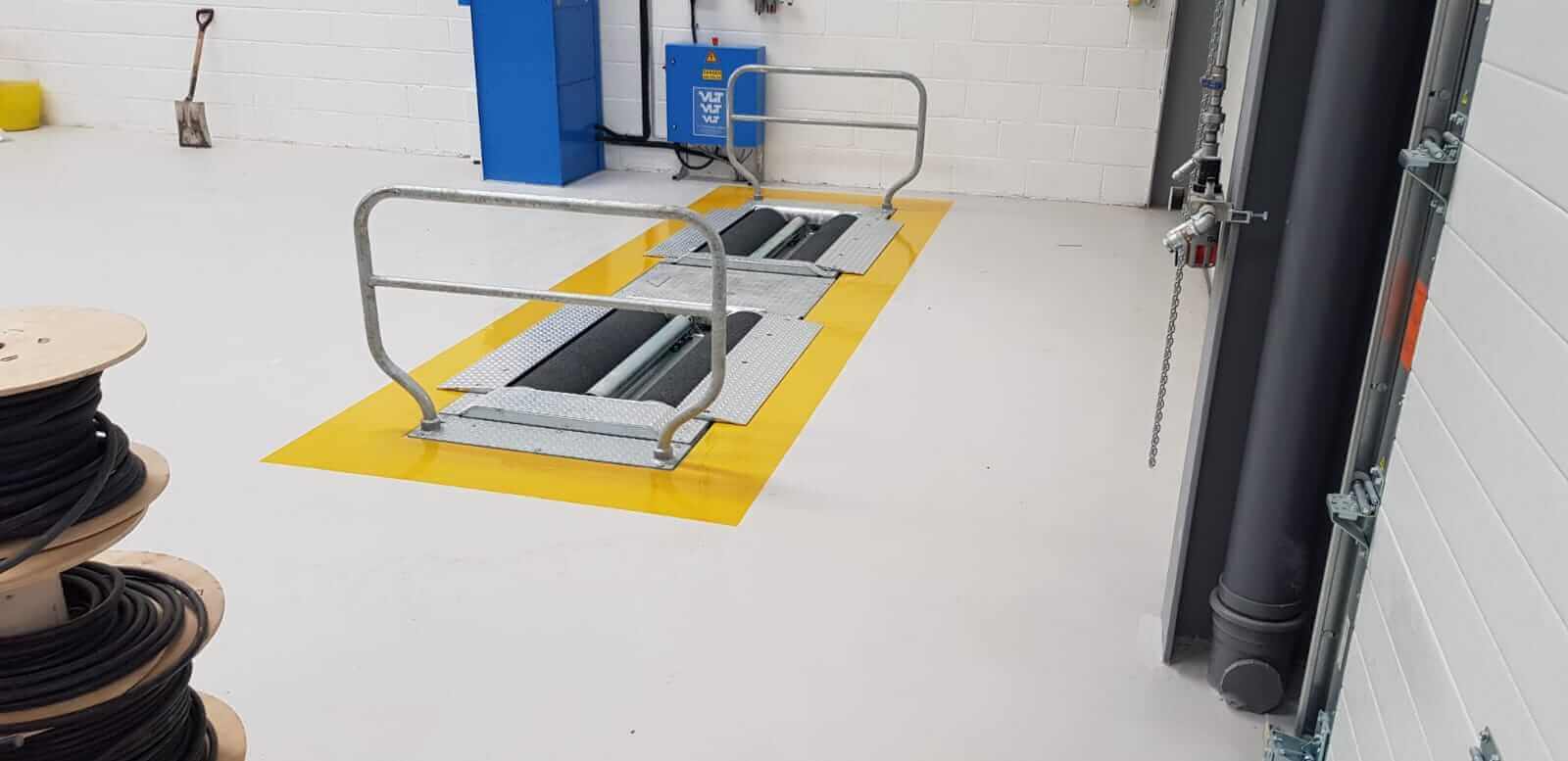 Flowstone always works with the client to ascertain a suitable timetable and one which limits any inconvenience to the smooth running of the business and all operations on site. In order to accommodate other trades on site, the Client requested for the works to be completed over 3 consecutive weekends. Flowstone accommodated this request by organising a schedule of works that would run in parallel usage to the industrial space and its operational commitments.
Flowstone agreed an order of works with Samclo which would meet the obligations of the project and be finished within the timetable we set out. Firstly, we carried out main flooring works to bays and concentrated on finalising these works over the first two weekends. We finished the third part of the installation on the third weekend by applying the necessary line markings.
Sequence of Works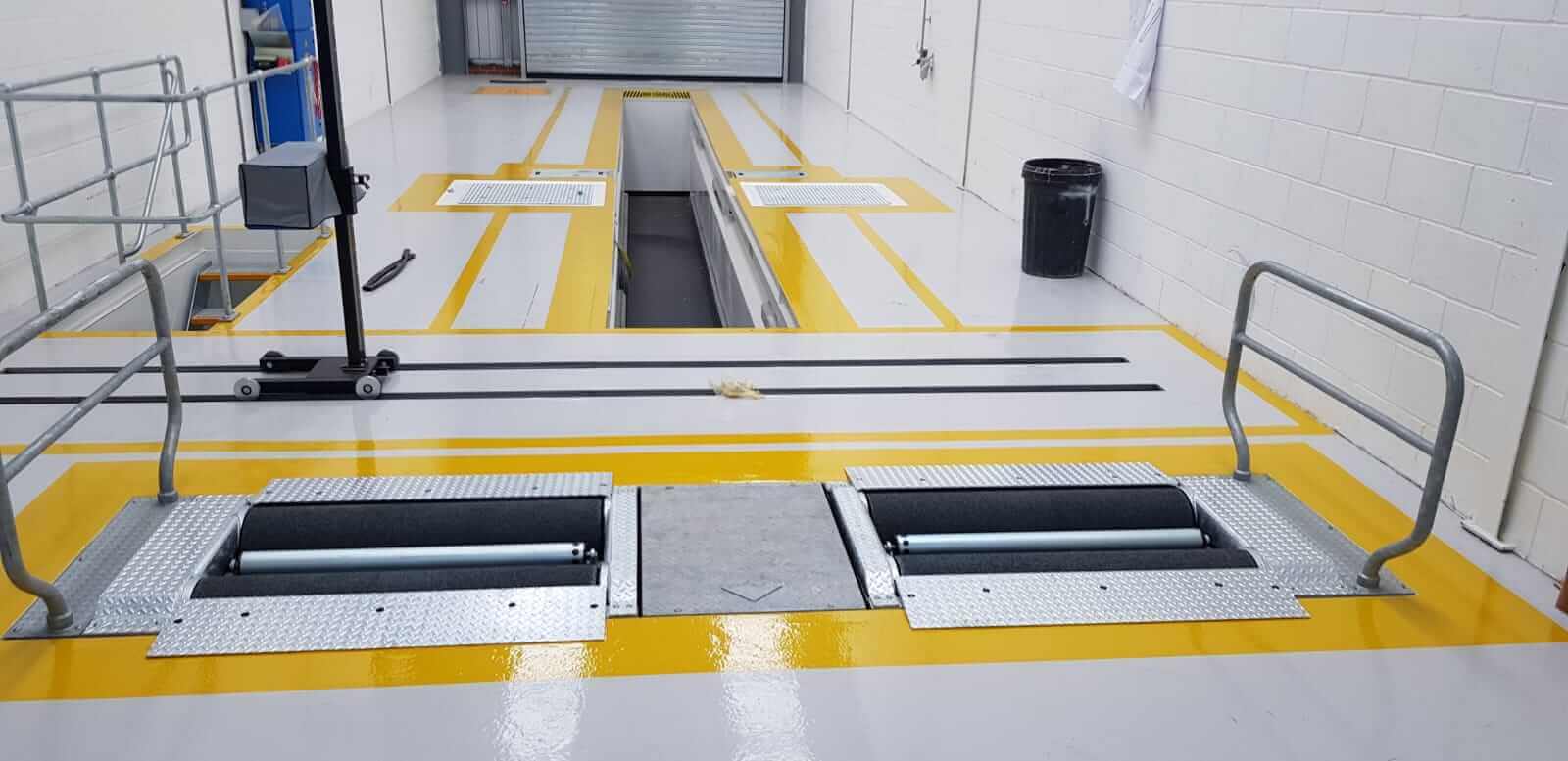 Flowstone carried out full mechanical floor preparation to the respective floor areas, including shot-blasting and diamond grinding in order to completely remove old resin coatings, as well as key the substrate in preparation for the new epoxy coatings.
We then continued by applying DPM primer to approximately 502 sqm area, which consisted of newly laid concrete. This was required in order to prevent residual moisture from bursting new epoxy coatings as the slab dries out.
Flowstone then proceeded to apply 2 coats of Strongcoat in Light Grey finish. The floor was complete with Black and Yellow chevron markings around vehicle pits. The final result was a smooth and glossy reflective finish that is both aesthetically pleasing, chemically-resistant, and hard wearing.
Samclo Limited expressed their huge satisfaction on seeing the finished product and we were happy to complete this project to our expected standards for such a valued client
If you have resin flooring requirement for your workshop, please get in touch with our team via telephone: 01978 790 186 or e-mail at [email protected] for technical advice, specification and obligation free price estimate. Alternatively, you can pop over to our contact page and get your project on the way to completion.