After a competitive tendering process, Flowstone was successfully appointed by Transport for London to carry out resin flooring and wall works at Croydon Tram Depot.
The Depot was constructed in 1998 and is the operational centre of Tramlink. It services six Stadler Variobahn trams and 24 Bombardier CR4000 cars, making the depot one of the busiest on the network. The depot can hold up to 24 trams and boasts a workshop with the facilities to perform almost all maintenance. The system control is also held within the building, making the depot the real nerve centre of Croydon's tram system. Therefore, working to tight deadlines and keeping the depot operational throughout the refurbishment works was crucial to the success of the project.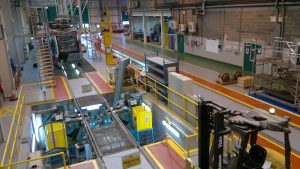 Tram Depot Flooring Specification and Installation
Flowcrete's Deckshield Rapide was selected for the tram depot floors and walls. The system is a solvent-free methyl methacrylate (MMA) resin system. Deckshield is an anti-slip, noise reducing resin system which is commonly used for car park refurbishment projects due to its strength, durability and fast track drying times. Deckshield Rapide offers an excellent bond with the substrate below, giving a high performing system. To ensure a good bond, the floors were shot blasted and the pit walls were prepared by way of mechanical hand grinding prior to both the floors and walls receiving the resin coatings. Flowstone swiftly completed the works within the required timeframe, working long hours over two weekends to ensure the tram depot was finished and in time for the Croydon Heritage Festival, celebrating Croydon's most iconic buildings.
Flowstone: Perfect Partner for the Transport Industry
As an Achilles RISQS accredited contractor, Flowstone has a long history of working with transport providers. With a wealth of experience working within both diesel and electric maintenance depots throughout the UK we have become a leading supplier and installer of hard wearing and anti-slip resin floors for the rail and transport industries. If you'd like to discuss resin options for your project, please call our team on 01978 790 186