Flowstone Industrial Flooring Limited was contracted to carry out resin flooring works for brand new DPD parcel sorting hub in Hinckley. The new hub is set to be DPD's fifth in the UK and the largest domestic parcel hub in Europe. It will be located close to J1 of the M69, as part of the 82 acre Hinckley Park development.
It will be DPD's most secure and technologically advanced hub, fitted out with the very latest fully automated sortation technology.
Overview
The work area comprised of four brand new engineering and operation stores, VMU area with vehicle maintenance pits, and stair pods. The area size total measured approximately 1,786 m2.
Flowstone specified Strongcoat – 2 part high build epoxy paint from Virtus Resins. The colour chosen by the Client was to match British Standard colour code of BS 18 B 25 (Merlin Grey).
Strongcoat is an exceptionally hard-wearing against sustained vehicle traffic and is most commonly installed in factories, warehouse flooring and workshops subject to medium/heavy duty vehicular traffic.
The substrate was a brand new concrete slab and as such, moisture meter readings were taken on-site to confirm the requirement for DPM primer. 2 coats of Flowprime DPM primer from Virtus Resins were specified for the purpose.
How we applied the epoxy flooring
Cold weather and the lack of heating in the newly built facility resulted in prolonged curing times of Flowprime DPM primer. Additionally, certain areas were not available to access at the time of the main flooring works. Flowstone team decided to allow extra time for curing and arranged to come back to the site to continue over-coating works to the remaining flooring areas at a date that was convenient to the Client.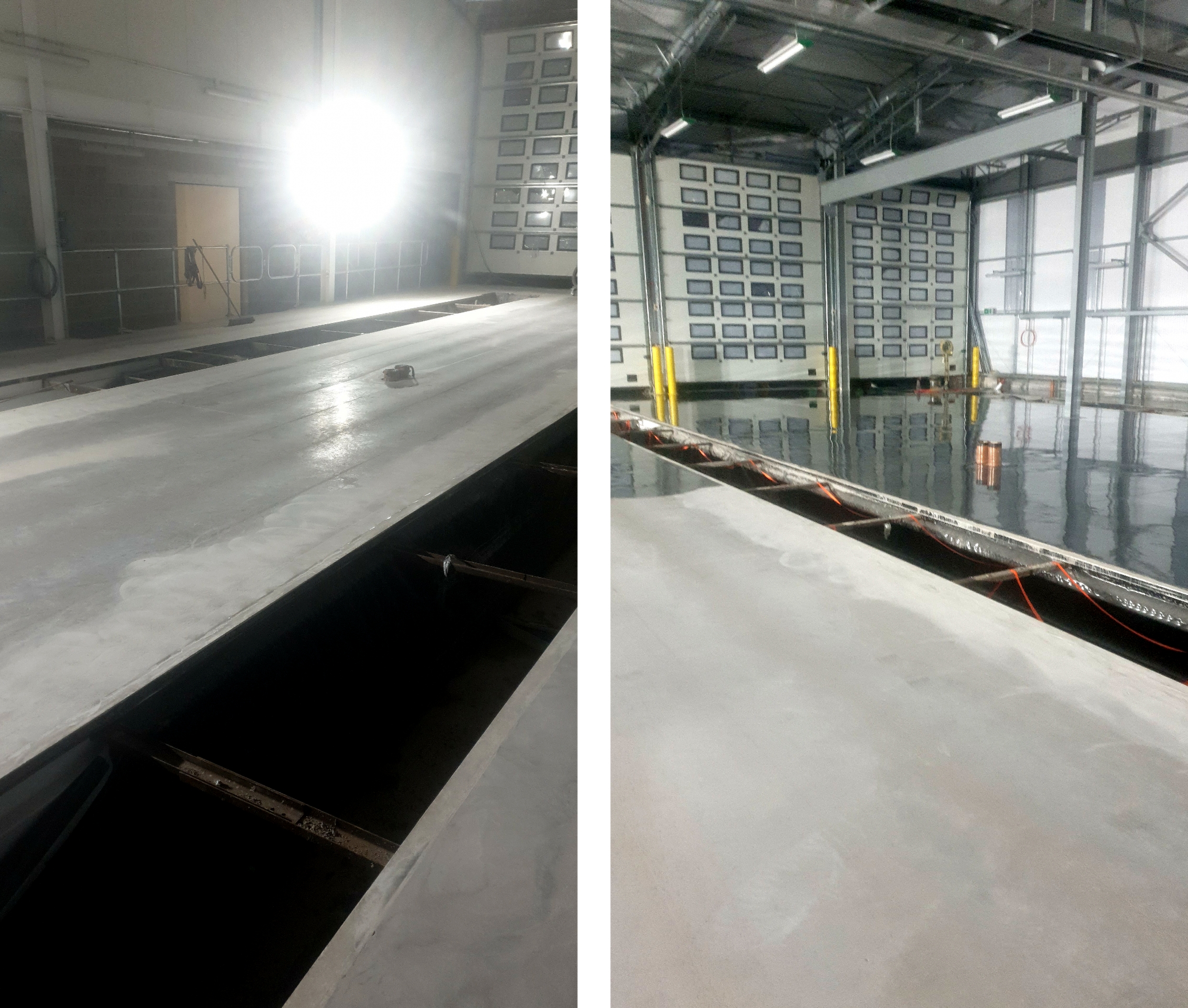 The floor area was thoroughly prepared by means of vacuum enclosed shot-blasting. Flowstone then proceeded to apply 2 coats of Flowprime DPM to the areas with residual moisture content. After the primer has sufficiently cured, it was over-coated with 2 coats of Strongcoat high build epoxy in a smooth gloss finish.
The whole project took 3 separate visits to complete.
If you have resin flooring requirement for your factory, please get in touch with our team via telephone: 01978 790 186 or e-mail at [email protected] for technical advice, specification and obligation-free price estimate.