Flowstone Industrial Flooring Limited was sub-contracted to carry out flooring works at Manchester Crematorium who required hard-wearing resin floor that is easy to clean and suitable for the public.
Manchester Crematorium is situated on Barlow Moor Road, Chorlton-cum-Hardy, to the south of the city. It was first opened in 1892, making it the second oldest crematorium in the country.
Job Overview
The Neo-Gothic chapel had a floor space measuring approximately 119m2. This was previously prepared with a 65mm sand and cement screed, ready for a resin screed.
Resin Floor Specification
The Client specified highly decorative and fast curing MMA (methyl methacrylate) Flowfast Terrosso system in Light Grey. This was to be installed at 4mm thickness to 110m2 area. An additional 9 m2 small utility room was to be over-coated with high build epoxy in colour Beige.
This type of resin floor is mainly used in public areas because of its ability to be decorated with flakes and having a fantastic seamless-smooth finish which is highly wearable and easy to maintain.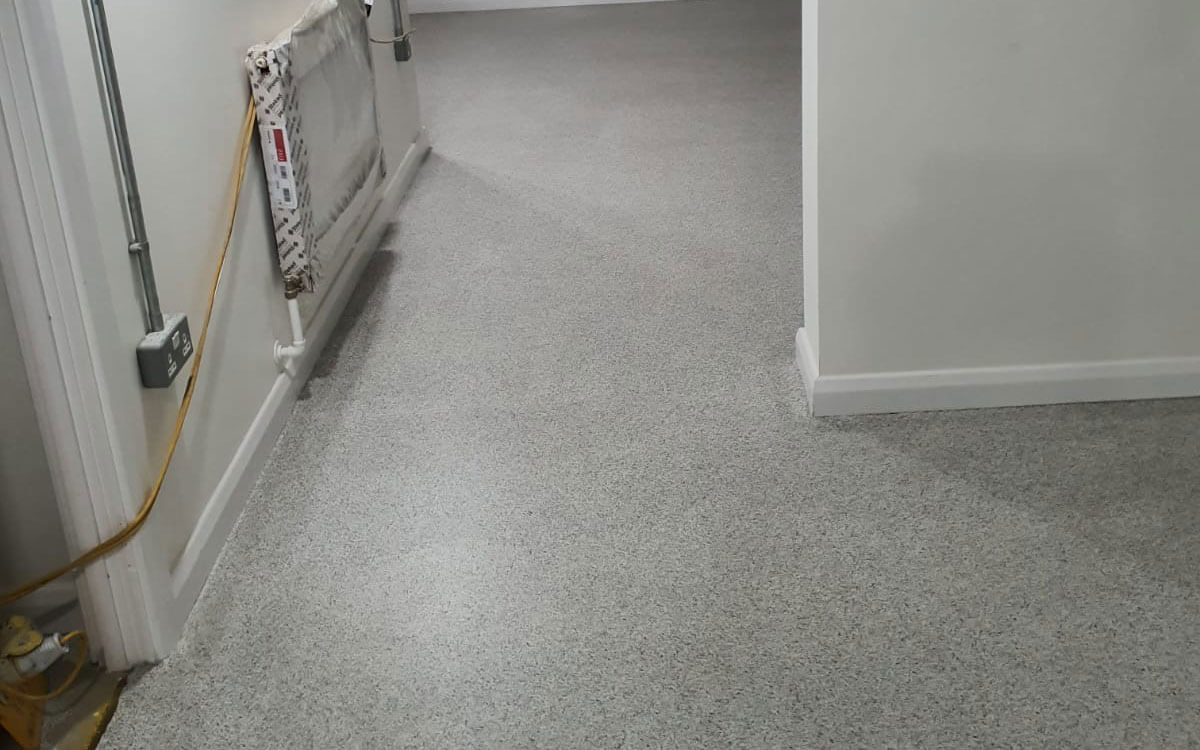 Sequence of Works
All floor areas were thoroughly prepared by means of diamond grinding to ensure key for the new resin system.
Flowstone then proceeded to install Flowfast Terrosso system by priming the floor, applying the binder and fully blinding it with 1-3mm flake blend in Light Grey. Finally, the floor was sealed with a UV-stable MMA sealer.
A small utility area was also mechanically prepared by means of grinding, and over-coated with 2 coats of high build epoxy paint in Beige gloss finish.
The whole project took 3 days to complete.
If you have resin flooring requirement for your project, please get in touch with our team via telephone: 01978 790 186 for technical advice, specification and obligation-free price estimate.