Flowstone Industrial Flooring Limited was recently appointed to install resin floor finish in a vehicle storage facility for a car dealership based in Padiham.
The area comprised of the ground and first-floor areas, totalling approximately 1,150m2 which required mechanical preparation, priming for newly-laid substrates, and high build final finish.
Specification of the warehouse floor
Flowstone specified Virtus Resins Strongcoat – high build epoxy paint in a gloss finish. The Client chose a light grey colour for a final look. Strongcoat is an exceptionally hard-wearing 2 part epoxy which can withstand continuous traffic of cars, is hygienic, resistant to car oils and chemicals, and is easy to maintain.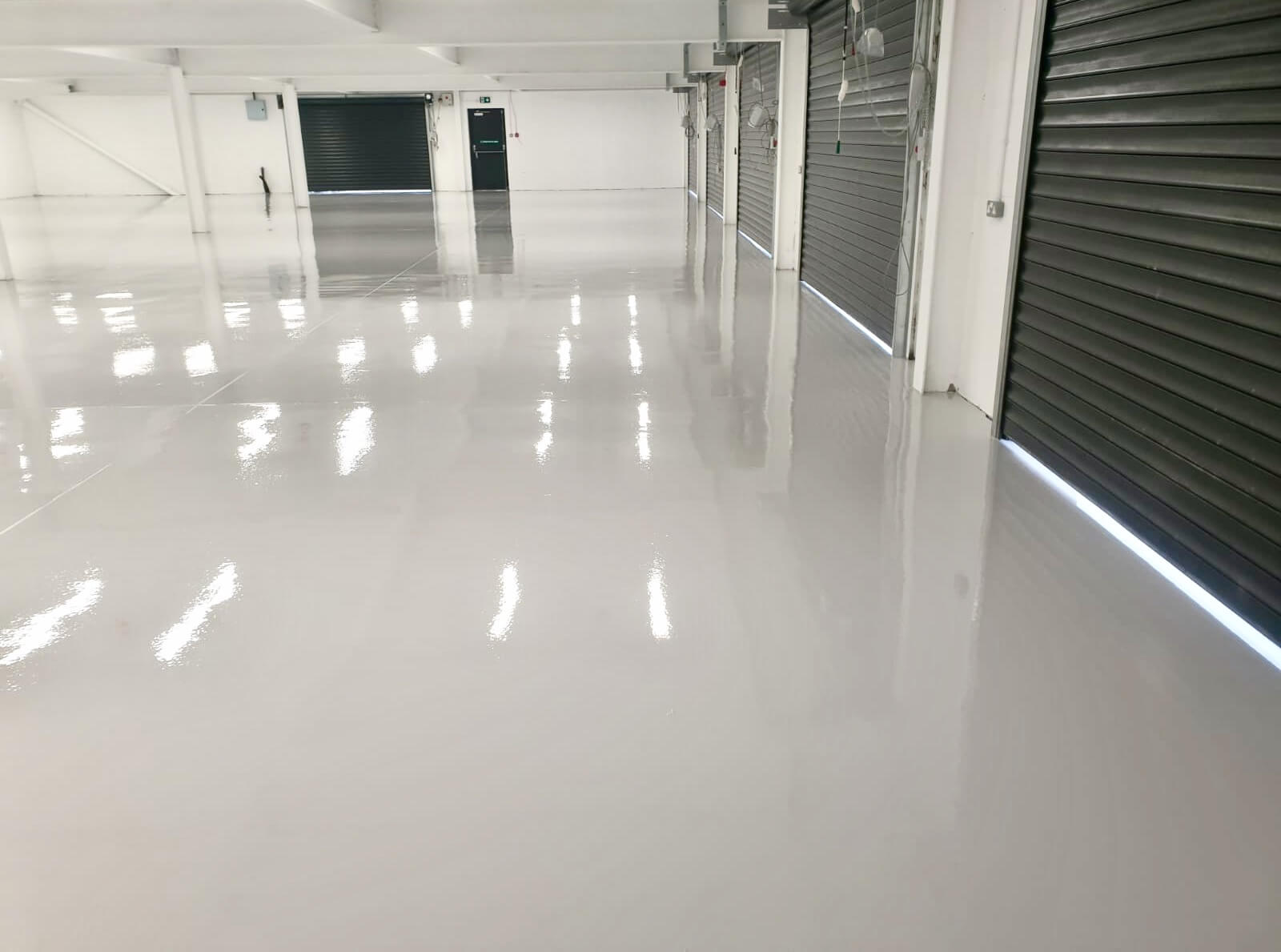 Flooring application challenges
The Client was on a tight schedule, and consequently, Flowstone offered a specification of Flowprime DPM to speed up the turnaround of installation. Flowprime DPM is a 2 part damp-proof epoxy primer which can be applied to substrates containing certain levels of residual moisture in order to prevent the new resin coatings from bursting as the concrete slab dries out. Application of DPM primer meant that we were able to put down two coats of Strongcoat high build epoxy without having to wait for the concrete slab to fully dry out, without compromising the quality of the resin finish.
Flowstone started the works by carrying out full mechanical floor preparation by means of shot-blasting to both ground and first-floor areas. It was then followed by edge-preparation, carried out by means of diamond grinding.
After the floor preparation was complete, we applied DPM primer to the newly laid concrete, followed by two coats of Strongcoat epoxy, throughout.
The whole job took 3 days to complete.