Flowstone Industrial Flooring Limited was contracted to carry out resin flooring refurbishment works for Marco Cable Management factory based in Llangefni, North Wales. The business, which was set up on Anglesey in 2003, is now part of the Akore group which manufactures steel wire cable trays and uPVC trunking.
Due to the changing market conditions, our Client was relocating from Anglesey to West Bromwich. Before vacating the premises, the Client required the floor to be completely refurbished as part of the final handover, expected to be complete by March 2020.
Job Overview
The work area comprised of approximately 1,633m2 open area, to be complete with anchor bolt repairs, then over-coated with 2 coats of high build epoxy paint in Mid Grey, finished with matching jointing to be installed to approximately 100m.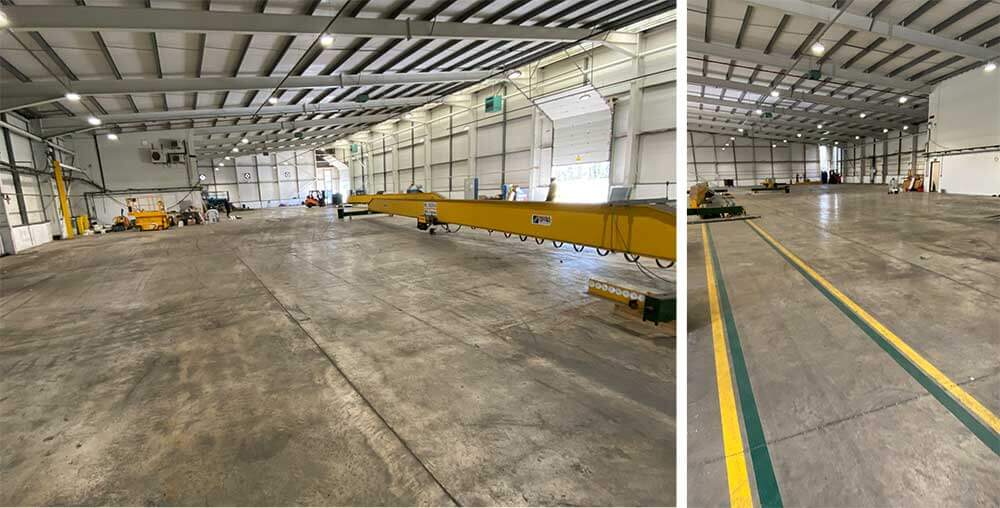 Specification
Flowstone specified Strongcoat – 2 part high build epoxy paint from Virtus Resins. The colour chosen by the Client was standard Mid Grey in a smooth gloss finish.
Strongcoat is an exceptionally hard-wearing paint most commonly specified in areas requiring resistance against sustained vehicle traffic such as pallet trucks and forklifts and is most commonly installed in factories, warehouses and workshops subject to medium/heavy duty vehicular traffic. It Is easy to maintain and offers general chemical resistance to a wide range of chemicals and oils.
Challenges
The floor contained a vast number of steel anchor bolts which required repairing prior over-coating the floor. Flowstone team proceeded by cutting off the tops of the anchor bolts, hammering them down below floor level, and then filling in with an appropriate repair product.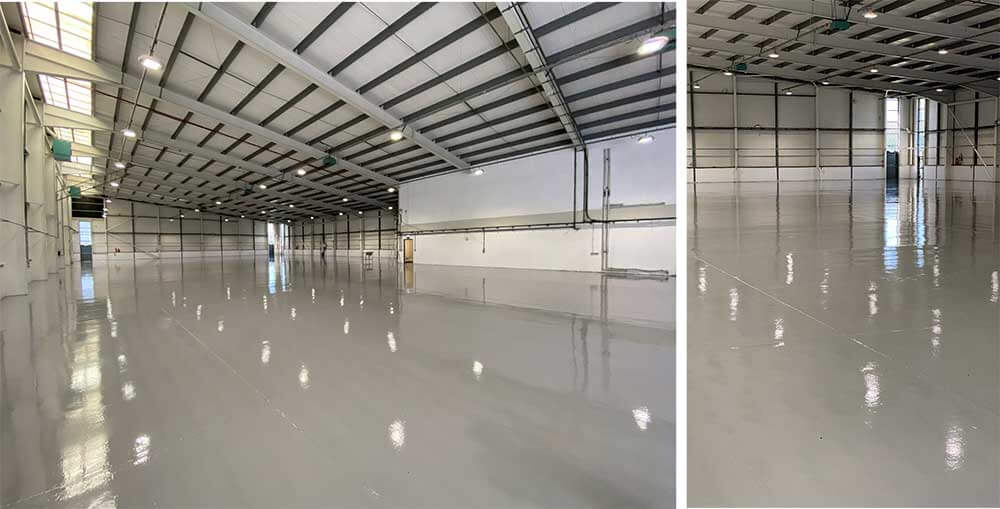 Sequence of Works
After the repairs of anchor bolts were complete, the floor area was then thoroughly prepared by means of vacuum enclosed shot-blasting and diamond grinding in order to remove old resin paint.
Flowstone then proceeded to apply 2 coats of Strongcoat high build epoxy in a smooth gloss finish, in colour Mid Grey.
The whole project took 5 days complete.
If you have resin flooring requirement for your factory, please get in touch with our team via telephone: 01978 790 186 or e-mail at [email protected] for technical advice, specification and obligation-free price estimate.